PRESS RELEASES
Young Girl Draws On Talent and Courage
To Triumph as a Violinist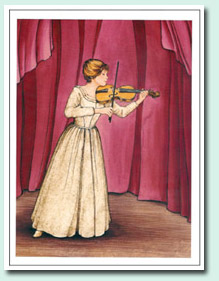 A courageous young girl learns — and teaches — valuable lessons on the road to triumph as a violinist in a new illustrated children's book, Molly and the Sword.

The book leads readers to Molly's big opportunity. She is about to play her violin in a famous concert hall. But she's nervous — so nervous that she's afraid to go on stage.

Years earlier, when she was very young, she had shown great courage. At a dangerous time, she had gone in search of water for her family. Back then, an officer in an enemy army had saved her from harm.

Now, at the concert hall, the officer suddenly reappears. Who is he? And can he help Molly regain her courage?

While answering those questions, the book also looks at broader issues: How does courage really show itself? and, can enemies become friends?

Although the book should appeal to children as young as 6, its story is likely to resonate with older children — 8 and 9 up to about 12. Even the dramatic 14 full-page illustrations and clean layout will draw in those older readers who might normally rebel against "children's" books.

Molly's story is simply told but filled with subtleties that children will appreciate on different levels as they grow older. One example is the way her mother's beautiful singing at the start of the book is mirrored by the beautiful sound of Molly's violin near the end, at the concert hall. Another example is the way a music teacher who doesn't want girl students (the story takes place in the nineteenth century) becomes Molly's advocate.

Music teachers will appreciate one point in particular: There's no magic wand, rather it's practice that enables Molly to perfect her skill. At the same time, the book does highlight the magic of music.


---
8-1/2 by 11; 32-pages, illustrated, unpaged; trade edition: hard cover with jacket; price: U.S.: $15.95; first printing; ISBN # 0-9745077-4-1 (ISBN-13: 9780974507743); Library of Congress Control Number: 2003112249; publication: spring 2004.

---