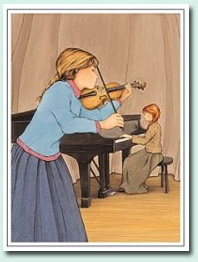 NEWS & VIEWS
Keep Calm on TV. During an interview about Molly and the Sword, I became overly emotional and kept tapping my chest with my finger. What I forgot was that I was also tapping on a microphone clipped to my shirt. The result was loud drum-like roars. Fortunately, through judicious editing the ace production team on The Balancing Act on Lifetime Television was able to salvage the result into the allotted five-minute segment. If you'd like to view it, simply click here.
Scribble, Scribble, Scribble. When the Edward Gibbon presented volume two of his monumental Decline and Fall of the Roman Empire to the Duke of Gloucester, the Duke said, "Always scribble, scribble, scribble! Eh, Mr. Gibbon!" Those of you interested in the origins of scribbling -- that is, writing -- had a choice of exhibits running simultaneously at the end of 2010. One was at the Oriental Institute in Chicago where a show on the "Inventions of Writing in the Ancient Middle East and Beyond" came with a terrific, beautifully illustrated book, Visible Language. (One takeaway from a show video: dental marks in a clay tablet gave a clue to the age of student scribes.) In New York, at NYU's Institute for the Study of the Ancient World, an exciting exhibit, "Before Pythagoras," showed cuneiform tablets from "the first golden age of mathematics." And, at the central building of the New York Public Library, a "Scriptorium," a small gem of an exhibition in a room off to one side of a large show on religion, we learned how early scribes made inks and other writing materials for their texts. (For example, spinach was used to produce a green-colored ink.)
Many Students, Many Questions. At my reading to 2nd graders in the private British International School of NY in Manhattan, my 40 minute allotted time stretched to 1-1/2 hours with lots and lots of really sharp questions. Two days later, with parents invited, I was at the brand new Bedford-Stuyvesant New Beginnings Charter School, which, in its first year, only goes to the 3rd grade. The visit led to 68 sweet, sweet letters to me from the students. Then I met with over 500 3rd, 4th and 5th graders at PS 100 in a Queens' neighborhood with a large South Asian ethnicity. Quite different backgrounds but at each school, the questions tossed up to me were thoughtful and wide ranging. "How did your childhood upbringing influence what's in this book?" "When were books invented?" And the seemingly simple, "How was your day?" Then there was even "Do you celebrate Kwanza?" For me, the best part of being a writer is being able to visit with these bright youngsters who are so eager to soak up new information and new ideas.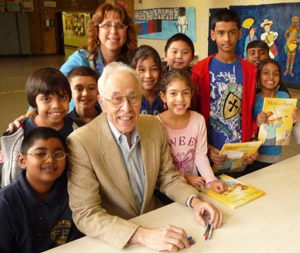 Many small groups of students (here, music teacher April Litt Rachmuth is in the back) lingered after my presentation to over 500 students at PS 100 in Queens, N.Y.
... And the teachers! I never fail to come away from my school visits without admiration for the dedication of the teachers I meet – and their personal stories. Take the three schools described above. At one school, the first teacher I met had an MBA in Finance and worked in a financial firm close to the World Trade Center. After 9/11 she thought about what had happened and about how much global travel her work required. Worried about her young children at home, she left her job, drew on her skills with the clarinet and the piano, and became a music teacher -- with a Masters in Special Ed. I visited her classroom and saw firsthand the wonderful job she was doing. And she seemed thoroughly happy with the career change she'd made. In another school, the librarian was also a sculptor and I witnessed the warm and skillful way she worked with the students. I eagerly await an invitation to her next sculpture show. In the third school, the general music teacher seemed awfully young herself to be so confident and effective in interacting with very young children. I later learned she'd had music scholarships in college and was giving tin whistle lessons to adults at the Irish Arts Center in Manhattan on a mission to help people connect with Irish cultural heritage. And, of course, in each of the schools a principal (or headmaster) had to feel that it made educational sense for children to talk with an author about books.
A Good Deed Rewarded. At a book fair organized by the New York Center for Independent Publishing, I had an inspiring chat with Morty Sklar, who's a delightful gentleman and a publisher of poetry books through his non-profit operation, The Spirit That Moves Us Press. Morty himself is a noted poet. He told me that several years ago, two academics approached him and urged that he put out a book by a Czechoslovak poet, Jaroslav Seifert. They even had a translation ready. Morty explained that he was busy preparing two poetry books for which he had received grants but would consider it when he was done. But the two academics explained that the Czech was very ill and urged that the book be rushed out. They persisted and Morty finally agreed. Working overtime he pushed out several hundred copies of the work, a normal number for a poetry book of that sort. A few months later he received a call from a book outlet in Sweden. The caller asked if he could order 25 copies. Marty said of course then asked why he wanted the copies. The Swede replied, "Haven't you heard? Mr. Seifert has just won the Nobel Prize in Literature." Since Morty was the only U.S. publisher of Seifert's work in English, his phone kept on ringing and ringing.
Budgets and Books and Baltimore. Last October, I was invited to exhibit Molly at a conference of the Maryland Association of School Librarians. This gave me two days of lively conversations with dedicated, conscientious professionals. But there was one troublesome note: their concern over budget cuts that slashed their ability to add books to their shelves. Since then, given the national economy, I suspect the situation has become even more difficult. It's painful and raises obvious questions about where our national priorities should be. (See "Bake Sales," below.) Switching to something much more cheery, may I suggest that in and of itself a visit to the Walters Art Museum (my first in many years) is worth a trip to Baltimore.
Violin Books Galore ... And More. Mayra Calvani wrote a children's book, The Magic Violin (Guardian Angel Publishing) but she hardly stopped there. She produced a violin website that describes novels, biographies, memoirs and children's books. Plus, there are author interviews. What's more, Calvani, who hails from Puerto Rico and is based in Brussels, has still other websites (with her other books and fine photos) covering her many passions. She describes herself as a "multi-genre author, reviewer, lover of books, animals, violins." If you're into dogs, check out her many photos. It pays to jump from one of her sites to the next, all easily accessible through, for example, www.violinandbooks.wordpress.com. A busy and talented woman. She also studies the violin. And, yes, she did review Molly and the Sword and posted an interview with me.
An Italian-American Family – And Proud of It! In 2008, while visiting a public elementary school in Queens, N.Y., I read to a class of special-needs students emphasizing Molly's message of believing in yourself. After the reading, one of the two teachers, Susan Mannino, shyly mentioned that she was writing a children's book. I tried to be encouraging although I knew the obstacles she'd face. What a surprise was awaiting me a year later when I returned to the school during career day. Susan, with the help of art and design friends, had come out with a children's book, The True Story of the Fly in the Pie with another on the way, A Rose Like No Other (both from Xlibris). Perhaps even more impressive, she'd also written a memoir of her family, An Italian American Story (Marble House Editions, email: dougeliz@att.net). I bought a copy, read it and quickly ordered more copies to hand out to friends. If you get the book, don't be overwhelmed by the names that come flying past you fast and furious at the start. (It's a large family.) Let yourself be drawn in to this very moving, very insightful, very loving look at an immigrant family. Yes, the memoir opens a window into Italian-American life but I think the lessons learned apply to many other ethnic immigrant communities as well.
Bake sales? At a gathering of the Music Educators Association of New York, the President, Maria Schwab, gave a spirited defense of the study of music. She sees it as a tool to foster the process of learning -- including the enhancement of "attention, cognitive, emotional and motor capacities." Maria went on to say, "It will be a great day when educators get all they need to educate children and NASA has to hold a bake sale to launch a rocket." Don't get me wrong, as someone who grew up mesmerized by astronomy, I'm very enthusiastic about NASA and the great discoveries in space exploration. And I know that "bake-sales" comparisons have been used in other contexts. But I understand Maria's frustration and loudly cheer her commitment to arts education for her students. (See "Budgets and Books and Baltimore," above.)
Preparing Children for Performances. Although I'm no musician, I'm glad to pass along this advice from Laurie Niles of Pasadena, California. A professional violinist and music teacher, she's also the editor of a terrific web site, www.violinist.com. Laurie e-mailed me: "When people say that kids don't feel nervous when performing, well, they don't know kids. I make my students have their recital piece memorized a month in advance. No joke. Then we do "pretend" performances for weeks before the recital. This helps tremendously — but they still get pretty excited about the actual recital."
Remembering His Father. Daniel Shorr, the much-honored Senior News Analyst of National Public Radio, was five years old when his father, an immigrant from Belarus, died. When Schorr, who is in his early 90s, was asked about his father, he replied, "I have one clear memory of him." Schorr recalled how his father, Louie, walked through the living room playing the violin while the five-year-old lay on the floor on his stomach, chin on his hands, listening. Although Schorr has forgotten "an awful lot" about his father, he said, "I can remember to this day what he played. It was Dvorak's Humoresque."
J.K. and Me. Last week during my repeat visit to a public school in Queens, a fifth-grade girl asked if I owned a limousine. As I see it, that's the Harry Potter syndrome. Judging from my recent school visits, students seem to know about the gobs of money the Potter series throw off. In trying to correct the misperception about writers, I told my questioner that not only do I not have a limousine but I arrived at the school by subway. I was careful not to throw in an "Alas." On the other hand, I hope Ms. Rowling gets as much enjoyment out of reading in the schools as I do.
A Profile of America's Artists. Almost 2 million Americans describe their primary occupation as "artist," reports the National Endowment for the Arts. That's a larger group than those in the legal profession, medical doctors or agricultural workers. Here's how the artist occupations break down: designers-39%; performing artists-17%; fine artists, art directors and animators-11%; architects-10%; writers and authors-9%; producers and directors-7%; and photographers-7%. The report, "Artists in the Workplace," supervised by the endowment's director of research and analysis, Sunil Iyengar, is filled with fascinating glimpses of this sphere. For example, among artists, dancers have the lowest median annual income — $15,000. As for musicians, some 40% of them work in the non-profit sector — far more than any other artist group. There's lots more interesting information in the report, which you can find at www.arts.gov. I especially like the endowment's slogan: "A great nation deserves great art."
Applause Between Movements? When Lawrence P. Goldman, the President and CEO of the wonderful New Jersey Performing Arts Center, was presented with the James Madison Award at Princeton University, he spoke of an unfortunate tendency of the performing arts to place "themselves on a pedestal.... to be approached only in black tie." He discussed what he called the eleventh commandment: "Thou shall not applaud between movements." Goldman told of the Center's first season and the appearance of a quartet of Isaac Stern, Yo-Yo Ma, Emanuel Ax and Jamie Laredo. The audience, perhaps 50% new to classical music, broke into spontaneous and heartfelt applause after the first movement. Goldman rushed backstage at intermission and he described what happened: "There, outside his dressing room, was Yo-Yo Ma, perhaps the nicest celebrity on the planet. I said, 'Yo-Yo, I hope it didn't upset you....' 'Larry,' he said looking me dead in the eye, 'The next time I play here, you can put in the program, in capital letters, that it's okay for people to applaud during movements.'" Goldman added: "I wanted to hug him."
Music and the Brain. From Musicophilia, a new book by Oliver Sacks: "Anatomists today would be hard put to identify the brain of a visual artist, a writer, or a mathematician - but they could recognize the brain of a professional musician without a moment's hesitation. … [Researchers]…have recorded striking changes in the left hemisphere of children who have had only a single year of violin training, compared to children with no training." From This Is Your Brain on Music by Daniel J. Levitin: "As adults, the music we tend to be nostalgic for, the music that feels like it is 'our' music, corresponds to the music we heard during [the ages of around ten or eleven]."
Montessori School. Usually, when I visit classrooms, two or three children raise their hands when I ask the students if any of them play the violin. But when I read at the Sea Pines Montessori Academy in Hilton Head, South Carolina, all the hands went up. That's because the Suzuki Violin Program is offered to all the students beginning at age three. The program was launched by an anonymous grant of $300,000 to the school, which started in 1968, and which offers toddler, primary and elementary programs with plans to extend through middle school. Both students and teachers participated in a lively, fun discussion after my reading. Since then, I've received wonderful notes from the students, and one teacher wrote me: "I saw myself in Molly's story." I still get warm feelings when I think about the visit.

Children's Concert With an Extra. When the renowned cellist Steven Isserlis was asked to perform a children's concert of Carnival of the Animals at the 92nd Street Y in New York, he came up with an inspired concept. The British-born Isserlis has performed with major orchestras throughout the world and is also well known for his recordings, articles and children's books. Isserlis's idea for his Y concert, where he was joined by the members of the St. Luke's Chamber Ensemble, was to invite the Bob Brown Puppets to participate. Although the concert was promoted for ages 6 and older, I saw many younger children in the audience. The mesmerizing concert was a huge success for all ages. In a Q&A after the concert, the children's questions seemed to be directed equally to the musicians and the puppeteers. Side note: Isserlis has been named president of the European String Teachers Association.
China. There's a fascinating series of three long articles on Western classical music in China in the New York Times, on April 3, April 4 and April 8, 2007 by Joseph Kahn and Daniel J. Wakin. One interesting item: China has "an estimated 30 million piano students and 10 million violin students."
Molly and orchestras. Aside from bookstores, music stores, museums and lots of websites, Molly is available at a growing number of orchestra — and opera-related gift shops. Examples:
New York's Metropolitan Opera Store
The Shop at Carnegie Hall
The Performing Arts Shop at Lincoln Center
Washington's Kennedy Center Gift Shop
Boston's Symphony Hall Gift Shop
Philadelphia's Kimmel Center
San Francisco's Symphony Store
Cleveland's Orchestra Store
Seattle's McCaw Hall
Houston's Symphony Store
Columbus's Ohio Theatre

Sioux Fall's Washington Pavilion
Detroit's Symphony's Boutique
Nashville's Schermerhorn Symphony Center Store
El Paso's Symphony Store
Milwaukee's Marcus Center for the Performing
Arts
Indianapolis's Music Stand
Virginia Symphony's VSO Boutique
Hartford's Bushnell Center
Santa Fe's Symphony & Chorus
Phoenix's Symphony Gift Shop
Etc., etc.
New Orleans. With Louisiana Symphony winding up its season, I sent copies of Molly for the volunteers' Symphony Book Fair scheduled for June 3-5, 2007 (at the Jewish Community Center, Saint Charles & Jefferson Ave., 9 am to 9 pm). Post-Katrina, after urgent e-mails and phone calls, I was relieved to find that the librarians, musicians, bookstore owners and symphony volunteers, whom I knew because they were fans of Molly, had come through the storm safely. I was on hand in Lincoln Center at a benefit concert when the New York and Louisiana Philharmonics shared the stage with Wynton Marsalis, Itzhak Perlman and other leading figures in the world of music. What I remember most was the pride I felt in my fellow New Yorkers when the Louisiana musicians were introduced and received a stormy ovation from the audience. By the way, one of my daughters went to New Orleans as a volunteer to rescue animals in the aftermath of Katrina.
Canada. Alas, I still haven't established new distribution links in Canada after the bankruptcy of my distributor in Toronto. That's especially sad because I've had such wonderful feedback from Canadians. (More about that soon - especially an exchange of letters, which I'll post soon, with a 10-year-old Canadian girl who raised some fascinating questions about Molly.)
Schools. The best part of this book adventure has been the opportunity to visit with school children. I've been reading to third- fourth- and fifth-graders. The students have been very responsive. In fact, they're plain terrific! It looks as if I'll have another school visit when I visit my daughter (an archeologist) in the next few weeks in South Carolina. I'll report back after the visit takes place. I never charge for the visits and there's no obligation for the school or the students to buy anything.
Suggested Reading Lists. Thus far, in addition to recommendations from magazines, schools and lots of individuals (see "Readers' Letters," section) Molly has appeared on the suggested reading lists of Delaware's Diamond State Reading Association, Creative Kids Education Foundation and Classical KUSC in Cincinnati, the Atlanta Symphony and the Minnesota Orchestra.