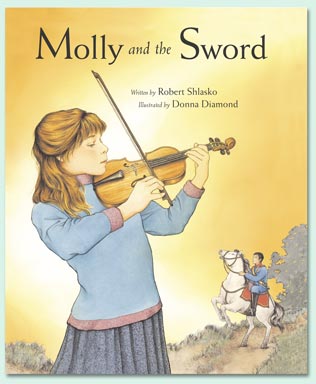 Ages: 7 -12
What a great opportunity for Molly.
She is about to play her violin in the most famous concert hall in all the world. But she's extremely nervous – so nervous that she's afraid to go on stage.

Years earlier, when she was very young, she had shown great courage. At a dangerous time, she had gone in search of water for her family. Back then, an officer in an enemy army had saved her from harm.

Now, at the concert hall, the officer suddenly reappears. Who is he? Can he help Molly regain her courage? And what important lessons do he and Molly teach each other?
The author. Robert Shlasko is a writer and editor whose work has taken him on assignments from Sweden to Samoa. In addition, his fiction and nonfiction have appeared in leading children's magazines. Although he has not mastered a musical instrument (thus far!), others in his family play the violin, the cello and the piano. The author enjoys listening to them all.

The illustrator. Donna Diamond is a graduate of the High School of Music and Art in New York City and of Boston University School of Fine and Applied Art. She has illustrated over 50 books for children and lives in New York City with her daughter.